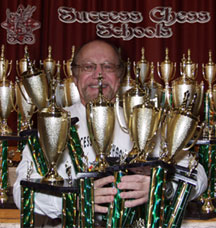 Alan M. Kirshner is an emeritus professor of political science and history at Ohlone College, Fremont, California. He retired in January 2012 after 51 years teaching with 41 of them at Ohlone College. Dr. Kirshner received his B.A., cum laude, from Hofstra University where he was awarded the History Department's book prize as their outstanding student. He received his M.A. from the City University of New York and his Ph.D. from New York University with a GPA of 3.97 out of 4 points for 75 units of course work. He obtained the New York University Founders Day Award for outstanding scholarship. Dr. Kirshner also studied at Ohio State University, The University of the Americas and The University of Brussels. Professor Kirshner started his teaching career in New York with ninth grade students at East Northport Junior High School and then taught tenth grade World Civilization for two years at Mamaroneck High School. Before Dr. Kirshner came to Ohlone College he taught upper division and graduate courses at The University of West Florida. While at The University of West Florida he taught Mexican History in the Latin American History Department and worked with the Education Department to supervise student teachers in the local High Schools.
Professor Kirshner has written extensively on social movements, ideology, and politics. He has authored four books (one was translated and printed in Mexico) and has published fourteen articles (two appeared in anthologies). His textbook, In the Course of Human Events, went through six editions before it went out of print in 2012. Dr. Kirshner has published fourteen articles (two appeared in anthologies). His other scholarly activities include some thirty papers delivered to diverse organizations. He served as a faculty senate and union president as well as a union negotiator. Sporadically, he has been involved in local, state, and national politics--working and organizing campaigns and giving more speeches then he cares to remember.
A renaissance person, Professor Kirshner, a former collegiate gymnast, a competitive bodybuilder and a national and world record holder in powerlifting, continues to produce award winning photographs. Many of these photographs, some of which have appeared in national magazines, can be viewed in his textbook, In the Course of Human Events: Essays in American Government. Professor Kirshner has national licenses to referee powerlifting, soccer and chess. He also holds certificates to coach youth soccer and scholastic chess.
In the 1980's, Dr. Kirshner's Mission Muscle Factory was well known for its insistance that none of its members use steroids and for the many team titles it obtained in powerlifting. During this decade he directed numerous local, state and national drug tested powerlifting competitions. Dr. Kirshner also became a strength coach for many track and field athletes. One of his trainees competed in the 1984 Olympics.The Maccabi Sports Committee of the Greater San Francisco Bay Area named Professor Kirshner the coach of the 1996 Track and Field Team attending the Maccabi Regional Games in St. Louis, Missouri. In 1997, he traveled with the Bay Area Maccabi Team to Milwaukee as the coach of the under 17 girls soccer team. They won the silver medal. His Weibel Elementary School Chess Team has won at least one California state title every year since 1990. In 2000 they became the Chess Education Association's national champions in both the Primary and Elementary School Divisions. In 2000, as well, the Chess Education Association named Dr. Kirshner their coach of the year. In Atlanta in the Spring of 2010, the Weibel Chess Team amazed many people when they tied for first place in the U.S. Chess Federation's Primary School Championships with a team that consisted of four girls and only one boy. In Chicago in 2011, his girls teams won the Eight and Under as well as the Ten and Under Girls Nationals.The Weibel Girls Team won the under 12 National Championships in 2013. In Nashville in 2012, the Weibel Chess Team made Dr. Kirshner proud when they came from behind to win the first place trophy in the Elementary School National Championship Division.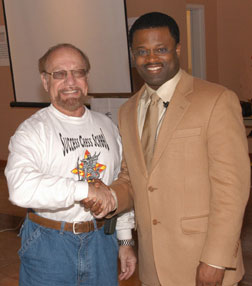 Dr. Kirshner meets with Grand Master Maurice Ashley at Chest Fest III.
One of Professor Kirshner's passions is organizing large tournaments. His American Drug Free Powerlifting Nationals in San Jose in 1986 received accolades for the staging of the event. In the early 1990's, he was the Fremont Soccer's Tournament Director. Since the mid-90's Dr. Kirshner has organized and directed many local and state scholastic chess competitions. In 2006, the CalChess State Scholastics, he ran, drew 1319 young players.
After his youngest sons left for college*, Dr. Kirshner created Success Chess School,a non-profit corporation, that provides after school chess instruction in the public and private schools. He had volunteered as the chess coach of the Weibel Elementary School after his son Micah won the State Primary School Championship Division in 1989. He continued to do so even after his sons Micah and Tov had moved on to Junior High School. Dr. Kirshner had honed his chess skills in his youth in the coffee houses of New York City and enjoyed sharing his chess knowledge and love of teaching children with the students at Weibel. In 2000, with a little extra time on his hands, Dr. Kirshner accepted the call of numerous parents at other schools to bring a program like Weibel's to their children. At 62 years of age he moved on to a new era in his full life by using his previous experience training teachers at the University of West Florida to prepare chess instructors to carry his vision into Bay Area schools. In 2004, Success Chess Schools had nearly 70 programs and more then 2500 students. Dr. Kirshner, in 2005, returned to full-time college teaching leaving Success Chess School in the able hands of FIDE Master Bela Evans. He continues to run the Weibel Elementary Chess School program which continues to produce hundreds of chess players each year many of them going on to national and international fame.

A compulsive volunteer, Professor Kirshner has been on the Board of Directors of many organizations:The Tri-City Democrats, homeowner's associations, various PTA's, public school Site Councils, Fremont City Youth Soccer, The Maccabi Area Youth Games, American Drug Free Powerlifting Association, The U.S. Powerlifting Federation, California Chess. Dr. Kirshner served on the Chess Advisory Board of the University of Texas, Dallas. He has organized and directed state scholastic chess tournaments and state and national drug tested powerlift meets. In March 1997, the U.S. Chess Federation declared Dr. Kirshner their Volunteer of the Month.[Derived from Alan M. Kirshner's In The Course Of Human Events: Essays In American Government, Fourth Edition© 1998 Simon & Schuster]
Dr. Kirshner has posted his October 22, 2003 Self-Evaluation (required as part of the Ohlone faculty evaluation process) for anyone a bit masocistic who cares to learn more about his background, activities and philosophy. You can also read what Ohlone College's Vice President of Instruction, Dr. Jim Wright had to say about Dr. Kirshner: Dr. Wright's commentary from December 8, 2003.

Dr. Kirshner's website
* Dr. Kirshner is very proud of his family. His wife of more than thirty years, Susan, is a Branch Manager for the Alameda County Library System in charge of their website. She received her MS in Library Science from San Jose State University after majoring in Women's Studies for her undergraduate degree. His oldest son, Lev, after an illustrious soccer career, both nationally and internationally, is now head coach of a successful Division 1 soccer program--San Diego State University. If you attended Mission San Jose High School you might have viewed Lev's name listed in the school's Hall of Fame. Not just for soccer, but also because he won NCS in badminton. Micah, his number 2 son, started his chess career in first grade by winning the Cailfornia Chess State Primary Championship. After a few more State championship wins and placing second twice in the Open Spring Scholastic Nationals he highlighted his chess success by winning the High School Championship that sent him to the National Denker Tournament for all state High School Champions. In High School Micah won a number of varsity letters in cross-country and track. Micah attended the Elliott School of International Relations of the George Washington University majoring in Far Eastern Studies. He studied for seven months in China and went on to complete his master's degree in Far Eastern Studies at the University of California, San Diego. He married a woman from Shanghai in 2007 and presently works in a managerial capacity as an SEO Analyst (Search Engine Optimization). In April, 2011, Micah and his wife, Ivy, gave Professor Kirshner his first grandchild, Elizur. You can be sure he will be boasting about his grandchild in future revision. ;-) Tov, number 3 son, also had a successful chess career, appearing continuously on the USCF National Top 50 Age Group lists while in elementary school and placing as high as third in the Nationas. He attended the University of California, San Diego. After graduating UCSD, Tov spent three years in Japan teaching English. He decided to make his career as an instructor of English as a Second Language and completed his Master's degree at San Francisco State University. He is presently teaching English in Japan. Tov is a renaissance person like the rest of his family. From fourth grade through his senior year in high school he only received two grades below A(both B's). He completed his graduate work with straight A's. He obtained 8 varsity letters in high school for his years on the track, cross-country and soccer teams. He ran varsity cross-country and track in college as well. While in Japan he won a first place trophy in a 5 kilometer race and ran in the Tokyo marathon. He plays guitar, snowboards, loves Trival Pursuit and like his father continues to work out with weights.