Professor keeps youths in check with chess

By Rob Dennis
STAFF WRITER, THE ARGUS, THE OAKLAND TRIBUNE


FREMONT -- In the board rooms and offices of the future, perhaps, sports cliches such as "struck out" and "slam dunk" may yield to a new lexicon -- the chess metaphor.

At least, that's what Ohlone College Professor Alan Kirshner hopes.

"I'd love to think that would be true -- the revenge of the nerds," he said.

Kirshner has done his best to make the goal a reality, coaching the Weibel Elementary School chess team to at least one state championship a year for the past decade, and serving as adviser to Ohlone's Chess Club. He recently was asked to serve on the chess advisory board for the University of Texas, Dallas, the top-ranked collegiate chess team in the country.

Kirshner, who teaches history and political science, has dabbled in chess since childhood, having played his first game at age 6. In New York, where he received his master's degree and doctorate, and began his teaching career, he was a regular in the city's chess-friendly coffee shops.

The weird thing is, he doesn't consider himself much of a player.

"There's a negative word for people like me -- patzer -- people who think they know how to play chess but really don't," he said.

So Kirshner attributes the success of the Weibel team to a combination of parental support and his organizational skills, rather than his ability at the board.

Whatever the reason, the program seems to be stunningly successful, with 180 children from kindergarten through sixth grade taking part, half of them on the competitive team.

Last year, the team won the Chess Education Association's national championship in both the primary and elementary divisions.

But Kirshner is especially proud of the fact that a third of the students are girls -- uncommon in the male-dominated chess world. Only 1 percent of the U.S. Chess Federation's 88,000 members are women, he said.

And it's a world that's experiencing a resurgence, Kirshner says. In 1995, there were 330 entries to the youth state championships. Last year, there were more than 1,000.

Kirshner says he thinks young people may be searching for something to challenge their intellectual, creative side -- to counter the "empty void" of fast-paced video games that test only their reactions.

"Chess provides it," he said. "The kids are unconsciously aware of it."

And it's not just an interesting hobby, he says. Studies of chess and education have shown that chess improves math, problem-solving and even reading skills.

Kirshner describes himself as a nerd, but his compact build and handful of old newspaper clippings in his Ohlone office betray an un-nerdlike past.

A former collegiate gymnast and competitive bodybuilder, Kirshner is a national and world record holder in powerlifting -- his hobby before his son, Micah, developed an interest in chess in 1989.

So what possible connection could there be between brute strength and chess?

"There is something to be said -- both are boring, and both play on the ego," he said with a laugh.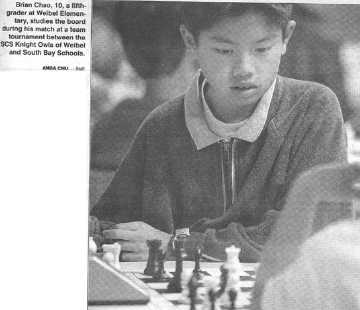 1-LOCAL, December 3, 2001, THE ARGUS
Weibel chess coach appointed to advisory board at the University of Texas at Dallas

BY FRANK GEORGE, FREMONT BULLETIN
Alan Kirshner, professor of political science and history at Ohlone College, has been selected to serve on the newly created chess advisory board at the University of Texas at Dallas.
Alan Kirshner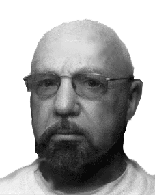 Kirshner coaches the chess team at Fred Weibel Elementary School, which has won at least one state championship every year since 1990.
"I'm not a competitive chess player," Kirshner said, "competitive coach, yes."
Kirshner joins Jim Eade, Menlo Park resident and "Chess For Dummies" author, Rodney Thomas, an IBM executive in Dallas, and university chess program director Tim Redman on the board.
Kirshner said the appointment is voluntary and he'll be flown to Texas a couple times a year to critique the university's chess program and help raise funds for fellowships and research.
The University of Texas at Dallas boasts the top-ranked collegiate chess team, according to school correspondence It was named Chess College of the Year by the Kirshner said the university has an online program for chess instructors and coaches, which he hopes to access.
"It's like teaching," Kirshner said. "Those that can, do. Those that can't, teach. Those that can't play, coach."
p.6 December 1, 2001, FREMONT BULLETIN